"Some Kind of Funny Porto Rican?…."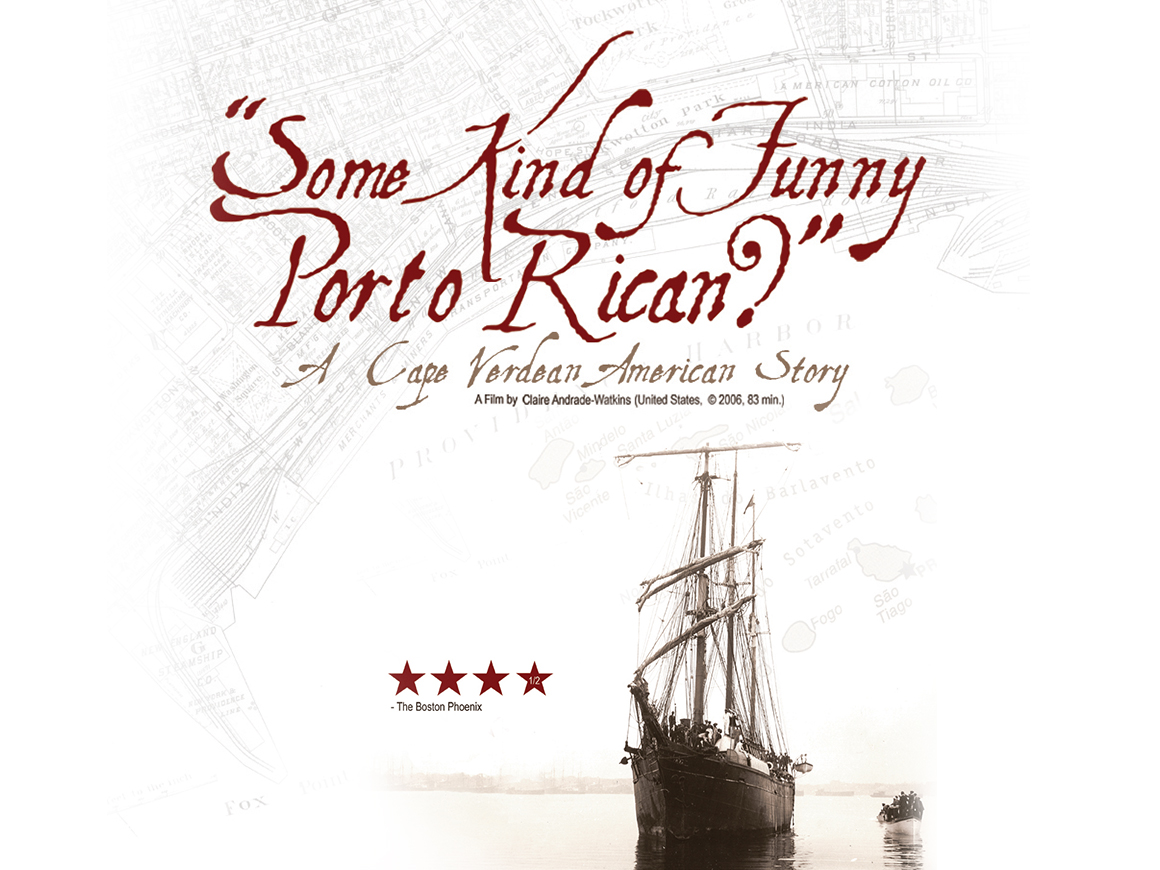 SKFPR is the untold tragedy and scandal of what happened to a vibrant community of immigrants from the Cape Verde Islands in the Fox Point section of Providence, Rhode Island who were forcibly displaced by urban renewal to make way for fancy coffee shops, antique stores and elegantly restored houses. Poignant, heartfelt and warm, in a timeless snapshot SKFPR captures the essence, spirit and heart of a community whose history was erased before it was written.
Buy the feature-length version of "Some Kind of Funny Porto Rican?": A Cape Verdean American Story
SKFPR PHOTO ALBUMS
MFA 2006 PREMIERE NIGHT! MAGIC!
NANTUCKET!! 2006 PREMIERE.DEDICATED TO TONI RAMOS
SKFPR 2007 PROVIDENCE PREMIERE
FESPACO: AFRICA FROM 1985-2007
SKFPR 2007 BERLIN, ROTTERDAM PREMIERE
SKFPR 2007 MOZAMBIQUE PREMIERE
SKFPR CAPE VERDE PREMIERE 2008
SKFPR FESTIVALS, SCREENINGS & BROADCASTS
TELEVISION BROADCAST
2014 RI PBS/WSBE-TV 36 February 1, April 9
2013 WSBE-TV 36/RI PBS May 4,5
2011 WSBE-TV 36/RI PBS March 26, 27
2010 WSBE-TV 36/RI PBS, May 1,2: July 10, 11
2014
March 26, University of Massachusetts, Lowell, Cape Verdean Student Association
March 14 ,Linden Ponds, Hingham, MA
2012
March 28, Francophonie Cultural Festival 2012, SMITHSONIAN, Washington, DC
2011
September 16, Festival Cineport, João Pessoa, Paraíba, Brasil
Festival of Cinema from Portuguese Speaking Countries
September 1, Swearer Center for Public Service at Brown University
July 20, New Bedford Free Public Library
April 7, Boston University, George Sherman Union Cape Verdean Cultural Student Association
April 6, Radcliffe Institute for Advanced Study, Movie Night at the Schlesinger Library
February 13, Paramount Theater, Emerson College, Boston, MA
2010
December 16-25, Black World Festival, Dakar, Senegal
October 14-17, CVIFF(Cape Verde International Film Festival), Sal, Cape Verde
January 30, San Diego Black Film Festival
2009
September 22, Stonehill College, Easton, MA
September 3, Brown University, Swearer Center, University Community Academic Advising Program
April 25, Wellesley College, WASA Film Festival, Wellesley, MA
April 17-19, African Screens – New cinemas from Africa, Lisbon, Portugal
March 28, Portuguese Speaking World Film Festival, University of Massachusetts, Boston
March 17-20, African American Film Festival, University of Ohio
February 26, African World Documentary Film Festival, St. Louis Missouri
February 21, 2009 Zion Heritage Museum, Hyannis, MA
2008
July 2-9, Cape Verde, National Premiere, Praia, S. Tiago, Mindelo, S. Vicente
May 1, Jobs with Justice Conference, "We Shall not be moved: Gentrification, displacement and the right to the City, Providence, RI
April l7, Dillard University, New Orleans, LA
February l6, Panafrican Film Festival, Los Angeles
February 8,Rhode Island College
2007 Screenings
October 26, Rotterdam, Holland, Pieter Hoochweg 125, Coolhaven
October 24, Berlin, Germany, Cinema Paris
September 14-23, DOCKANEMA Documentary Film Festival, Maputo, Mozambique
August 9, Rhode Island International Film Festival
June 17, Provincetown Film Festival
April 4, Philadelphia Premiere, Scribe Video Center
March 9-11, New York Harlem Stage on Screen
February 24-March 3, FESPACO Film Festival, Burkina Faso, Diaspora Competition
February 12, Simmons College
2006
January 26-February 1, MFA, Boston, MA
April 7-9, Columbus Theatre, Providence, RI
April 30, Onset, MA Community Screening
June 28, Whaling Museum, New Bedford, MA
July, Heritage Film Festival, Providence, RI
July, Roxbury Film Festival, Roxbury, MA
August 26, Cape Cinema, Dennis, MA
August 27, Nantucket Whaling Museum, Nantucket, MA
September 28, Emerson College, PRISM Conference
November 2, MIT, Chicks Makes Flicks, Cambridge, MA
November 13-14, Brown University
November 16, Cornell Cinema, Cornell University
December 7-11, AFI, TransAfrica Forum Film Festival
I have often been asked how I came up with the title for my documentary on the Cape Verdean community in the Fox Point section of Providence, Rhode Island where I was born and raised. The "Some Kind of Funny Porto Rican?", is derived from an actual comment made many, many years ago. My beau's brother was a student at Brown University in Providence, RI. Upon learning that his brother had met a Cape Verdean girl from Providence, the Brown student replied, "Cape Verdean? Oh, there are a lot of them around here; they're some kind of funny "Porto Ricans." (Note: spelling of "Porto" is the way it was pronounced, hence the spelling in the title). This is a classic example of the (mis)perceptions of Cape Verdean Americans.
The search for visual material for this project has been an ongoing hunt for over twenty years.I have gone door to door, following leads of family and friends: sometimes crawling through basements and attics, and in one instance prying 8mm black and white footage of Brava, Cape Verde in the l950s from a reluctant cousin's attic. Through a more cooperative uncle, I was given the use of his 8mm family archive spanning thirty years of family events and holidays. Other finds include priceless photographs, many going back to the late 1890s, journals, newspaper clippings and a pristine collection of beautiful 8mm color film of the Fox Point community in the late l950s and l960s and of the longshoremen "working the boats" in the Port of Providence and 8mm footage of the famed ERNESTINA, a two-master Gloucester schooner, the last packet ship to regularly sail to New England, and a legend in Cape Verdean folklore.
Another highlight is the voices from the oral histories with the "old-timers" I have conducted over the years. Now that many are deceased, their voices are an even more valuable part of this story. SKFPR does not attempt to be the definitive word on the "Cape Verdean" experience. What the project endeavours to do is to tell a story that is rich in human experience and scholarly detail and give primacy to first voice narrative.
"Thank You for such a wonderful film! My family is Cardoza. While we settled in East Providence and Nantucket we had very close ties in Fox Point (Britto's and Alves). All these years, I never knew there was such a story behind fox point. Thank You.."
"Again, thank you for undertaking this remarkable work (i.e. the Foxpoint documentary); I believe that it should be a "must see" for all planning and design students working in urban areas.
(Kenneth M. Reardon, Associate Professor and Chair Department of City and Regional Planning
Cornell University)
Claire, "Some Kind of Funny Porto Rican" is a wonderful reminder of what can be so easily destroyed; a community of people who love and care for each other. Congratulations. I felt like I belonged!
(Michael Ambrosino)
"I am inspired to continue to teach my son 4th generation CV/American, the history and culture of our people….The SKFPR story belongs to us all. In your family, I saw my own. Please continue your important work. Tell the stories. We yearn for them!"(Robyn Martin)
"…You have preserved Cape Verdean history and at the same time provided inspiration for future generations of historians and filmmakers."(Dawna Thomas, PhD)
"…I saw SKFPR this weekend in Providence. I want to thank you for creating this movie. I learned a lot about my culture that I, also, could not find in textbooks. The movie is truly refreshing and educational."
"..Although my roots are Italian-American, I could identify in so many ways with the folks you interviewed…that sense of pride, in one's family, ethnic heritage, and neighborhood! I was so moved by what I heard and saw…and went through three tissues as I wept and blew my nose!"(Marianne Gianfrancesco)
"(Hally Duarte)I'm so glad that I found this, very educational especially for the youth of cabo verde, we need to watch this to appreciate what the cape verdean has done. "
I'm so glad that I found this, very educational especially for the youth of cabo verde, we need to watch this to appreciate what the cape verdean has done.